Tomorrow and Friday, the FDA will hold public meetings on two emerging drugs for hepatitis C.
If these medications work as well as their proponents hope, they could be a godsend. Millions of people worldwide carry the virus, and over the long run roughly a third of those carriers are likely to experience severe liver cirrhosis or liver cancer. The existing therapies for hepatitis C carry miserable side effects, involve nearly a year's worth of injections, and simply don't work for many people.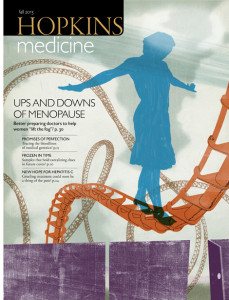 This summer — back during the innocent days between graduation and orientation — I reported and wrote something about hep C for Hopkins Medicine Magazine. That story was published this week, just in time for the FDA hearings:
One day in late 1995, David Frick began to suffer severe abdominal pain. A few months earlier, he had completed a PhD in biology at Johns Hopkins, and now he was doing a postdoctoral research fellowship on the Homewood campus, studying bacterial enzymes. When the pain hit, his first assumption was that it was appendicitis. He'd go under the knife, be away from his lab bench for a week or so, and then life would return to normal.
Or so he thought. A few days later, the diagnosis arrived: Frick had hepatitis C. He had probably acquired the virus from a contaminated blood product shortly after he was born, when he received transfusions to treat a rare disorder. After 20-odd years of silent destruction, the virus had caused extensive cirrhosis in his liver. He would need a transplant.
For the full story, click here (warning: large PDF) and scroll to page 26.